Discover Bali with Isabelle de Terracotta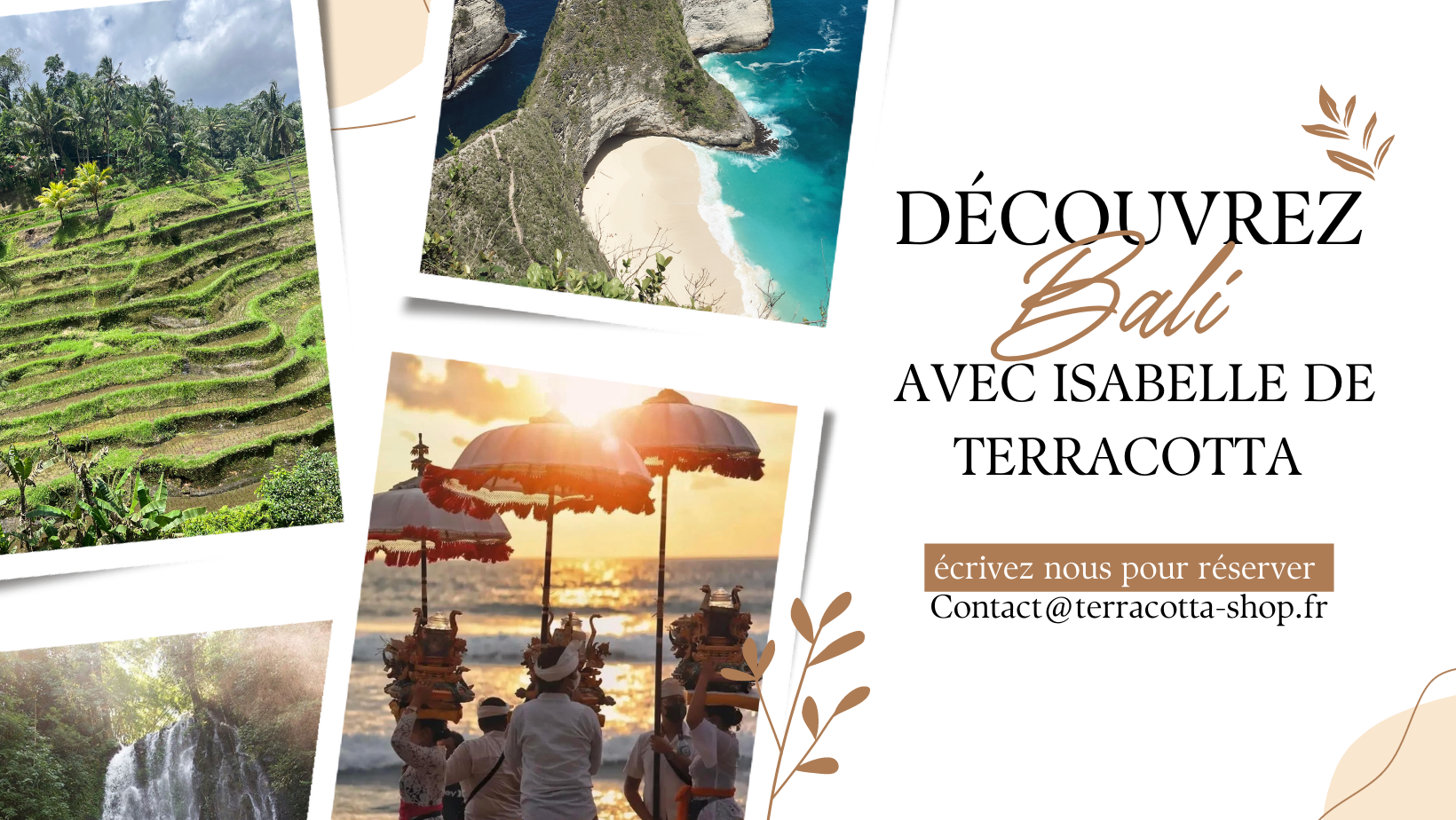 Bali is a top destination for female travelers looking to relax and experience a fascinating culture. If you are planning a trip in September or October, you can enjoy Bali's sunny weather and bustling activities before the rainy season arrives. If you are looking for a unique travel experience, we have the ideal solution for you: a 15-day organized stay in Bali, designed exclusively to be among women.
Immerse yourself in the natural wonders of Bali
Our package tour begins with exploring the natural wonders of Bali. We will visit the rice terraces, a UNESCO World Heritage Site, where you can admire the beautiful landscapes of Bali. You can also explore waterfalls and hot springs for a totally relaxing experience.
Enjoy Bali's white sand beaches
Bali is known for its various beaches, where you can relax and soak up the sun while sipping cool cocktails. We will visit some of the best beaches in Bali including Seminyak, Uluwatu, sanur... where you can relax on the sunbeds and enjoy the ocean view.
Explore the temples of Bali
Bali is rich in history and culture, and we will visit temples such as Tanah Lot and Tirta Empul where you can perform purification rituals and many more to experience Bali's cultural heritage. You can admire the unique architecture of the temples and learn about local traditions and beliefs.
Discover the markets and artisans of Bali
One of the most exciting experiences of this trip will be the opportunity to purchase unique handicrafts directly from Bali vendors. We will visit bustling local markets where you can see artisans at work, learn about their traditional craftsmanship and buy quality products at reasonable prices. This opportunity is unique in Bali and we are delighted to share it with you.
Relax at the best spas in Bali
With us, we want your Bali travel experience to be as relaxed and enjoyable as possible. That's why we've included times in our itinerary for you to enjoy relaxing massages and spa treatments to help you rejuvenate. After a busy day exploring the wonders of Bali, you can relax in a luxurious or local spa and be pampered by relaxation and relaxation professionals.
Discover the vibrant nightlife of Bali's beach clubs
Bali is also known for its lively nightlife, and we have planned times to enjoy the best beach clubs on the island. Guests can sip cool cocktails and dance to live music while taking in the stunning ocean views. We will visit popular beach clubs for an evening of relaxation and fun.
Stay in quality accommodation in Bali
We have selected quality accommodation to offer you a comfortable and pleasant stay in Bali. You will stay in quality hotels offering modern facilities and exceptional comfort for an unforgettable stay in Bali.
Join us for a unique experience in Bali
Bali is a top destination for female travelers looking for a unique travel experience. With our 15-day Bali package tour, you can experience Bali's natural wonders, fascinating culture, and unique artisanal shopping, while relaxing at the island's best spas and enjoying the best nightlife destinations. We are delighted to share this experience with you and we ensure that your stay in Bali will be unforgettable.
Don't miss the opportunity to experience Bali at its best in September-October . Book now to enjoy this unique experience and discover Bali with women from all over the world.
Contact us for more information on this 15-day organized stay in Bali and do not miss the opportunity to create unforgettable memories.
For more information and to book, contact us now to offer you a stay of relaxation and discovery in Bali between girls!
Write to us on contact@terracotta-shop.fr
I await you with pleasure,
Isabella 🌞